CCP and the EVE Online Community Raise $190,890 for Typhoon Haiyan Relief
by CCP Loktofeit2:07pm on Wednesday 11th December 2013
"PLEX for GOOD" Campaign and Telethon Demonstrate Generosity of Gaming's Largest Universe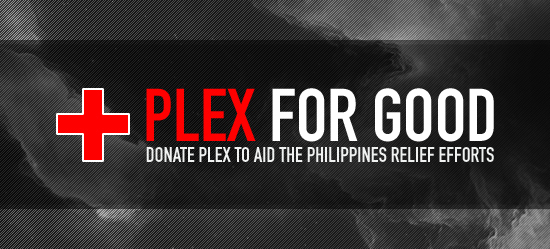 Reykjavik, Iceland -- 11 December 2013 – CCP, the world's leading independent developer of massively multiplayer online (MMO) games, today announced that the players of its game EVE Online have donated US$190,890 to the Icelandic Red Cross to help the citizens of the Philippines recover from Typhoon Haiyan. The money was raised through the "PLEX for GOOD" program, which allows players of EVE Online to collectively donate in-game currency to worthy charities, as well as other associated donations.
Starting November 20, and with the support of the EVE Community, CCP began receiving donations of an in-game item called PLEX (Pilot's License Extension), which represents one month of game time in EVE Online and can be bought and sold on the in-game markets for in-game currency. For each PLEX given in this way, CCP in turn donated US$15 to the Icelandic Red Cross for typhoon relief efforts.
During the PLEX for GOOD drive the EVE community banded together in dozens of unique player-run efforts to donate 12,726 PLEX (approximately 1060 years of playtime) to total US$190,890.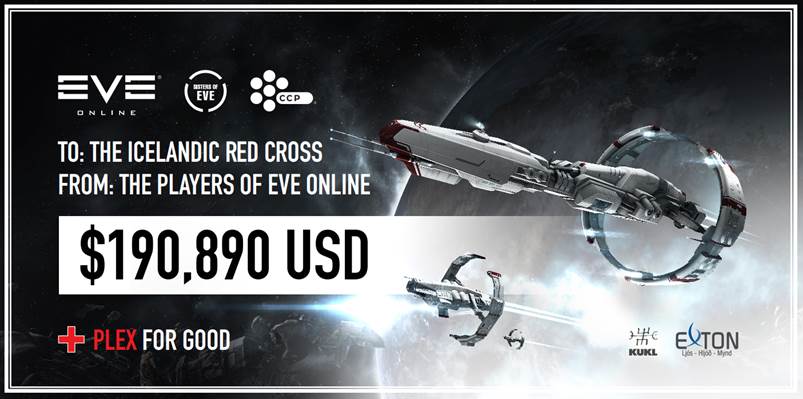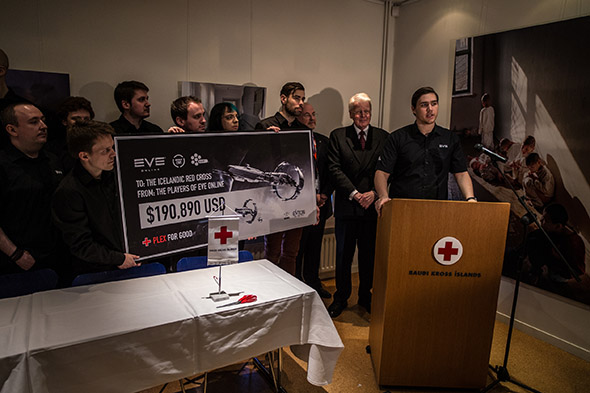 The drive culminated on December 7 in an 8+ hour "telethon" live-streamed on Twitch (www.twitch.tv/ccp) featuring EVE Online developers who pledged unique donations as fundraising milestones were hit, including developer boxing matches, male and female head-shaving, getting a full-arm tattoo, sparring versus a Tae Kwon Do champion and even getting shot with one paintball for every US$2,000 donated. Other programming included a guest appearance and "training session" by mixed martial arts phenom Gunnar "Gunni" Nelson, a developer cooking competition, Q&A sessions and a live sampling of the most exotic tastes of Icelandic cuisine.
While the interactive content of the telethon was on the lighter side, the heartfelt thanks from CCP's development staff to its players is very sincere. Every milestone was reached and well surpassed.
"We often talk about how EVE is 'real', a simulation of humanity where there are few rules and all the economic, political and social forces of human nature push the boundaries of morality in all directions," said Hilmar Veigar Petursson, CEO of CCP, "We've seen the passionate side of our players over the past decade, but truly nothing could prepare us for this level of generosity from them. It is humbling. It is beautiful. It is what EVE is really about."
Coupled with the other PLEX for GOOD efforts, EVE Fanfest silent auctions and other associated charity drives, the EVE community has raised a total of over US$340,000 for charitable causes since EVE was released on May 6, 2003.
About CCP
CCP is the world's leading independent developer of massively multiplayer games, and has been praised for its artistry, game design and unique player-driven, infinitely scalable storytelling narratives. CCP is the creator of the critically acclaimed science-fiction game EVE Online (PC/Mac), which is celebrating an unprecedented tenth consecutive year of subscriber growth. In addition to EVE Online, CCP also develops DUST 514 ®, a groundbreaking, free-to-play, massively multiplayer online first-person shooter for the PlayStation®3, and EVE: Valkyrie™, a multiplayer spaceship dogfighting shooter, both set in the EVE Universe. CCP is also developing World of Darkness®, a modern gothic horror massively multiplayer online roleplaying game based on the classic tabletop roleplaying game Vampire: the Masquerade®. Founded and headquartered in Reykjavik, Iceland, in 1997, CCP is privately held, with additional offices in Atlanta, Newcastle, San Francisco, and Shanghai. For more information, visit www.ccpgames.com.
About EVE Online®
Celebrating its tenth anniversary, EVE Online (PC/Mac) is a captivating science-fiction game in which hundreds of thousands of players compete for riches, power, glory and adventure in a single universe. EVE players build and command a wide variety of starships and traverse vast solar systems interconnected by a sophisticated player-driven economy, forging their own destinies in the meaningful context of other players vying to do the same. Learn more and play the free trial at www.eveonline.com.