CCP to Erect Monument to EVE Online Players in Reykjavik, Iceland
by CCP Loktofeit6:06pm on Wednesday 5th February 2014
All Active Players on March 1st 2014 Will Have Their Names Permanently Etched on Monument's Base
Reykjavik, Iceland – 5 February 2014 -- In celebration of the first decade of the EVE Universe, CCP Games today confirmed plans announced at Fanfest 2013 to erect a monument in the picturesque downtown harbor of Reykjavik, Iceland to honor those who have participated in establishing the massive virtual universe. The monument will serve as a physical manifestation of the respect and appreciation the company has for the millions of EVE Online players and followers who have contributed in the cooperative creation of the EVE Universe over the past decade. It also serves as a gift to Reykjavik, the home of CCP Games and EVE Online development for the past 16 years, as well as its inhabitants and those who come to visit the world's northernmost capital.
The monument will stand atop a half a meter tall metal-plated concrete platform that will have the names of all the main characters of all active EVE Online players (as captured on March 1st, 2014) etched upon it. CCP will be honoring EVE players who have passed away by adding their names to the monument as well. A web-based application will assist in finding specific names on the monument's surface. A laptop buried under the monument will serve as a time capsule with videos, messages wishes and more from the players and the development staff.
"Our intention is to immortalize the contributions of the millions of people of the EVE universe in a way that extends beyond their immortality in our games", said Hilmar Veigar Petursson, CEO of CCP. "Honoring them as part of a timeless monument shows how virtual lives and adventures have reached a new level of meaning and impact that weaves into and enhances those that happen in this world. We are humbled by all those that have joined us on the journey so far, and it's our hope that this physical piece will continue to gather energy and relevance into decades to come, becoming like EVE Online and outliving us all. "
The monument will be unveiled on Wednesday April 30th, a day before Fanfest 2014, the annual gathering celebrating the EVE Universe held at Harpa Concert and Convention Center in downtown Reykjavik. At the event, thousands of EVE Online, DUST 514 and EVE: Valkyrie players will witness the dedication in a special livestreamed ceremony that will include CCP staff, city officials, friends, and family.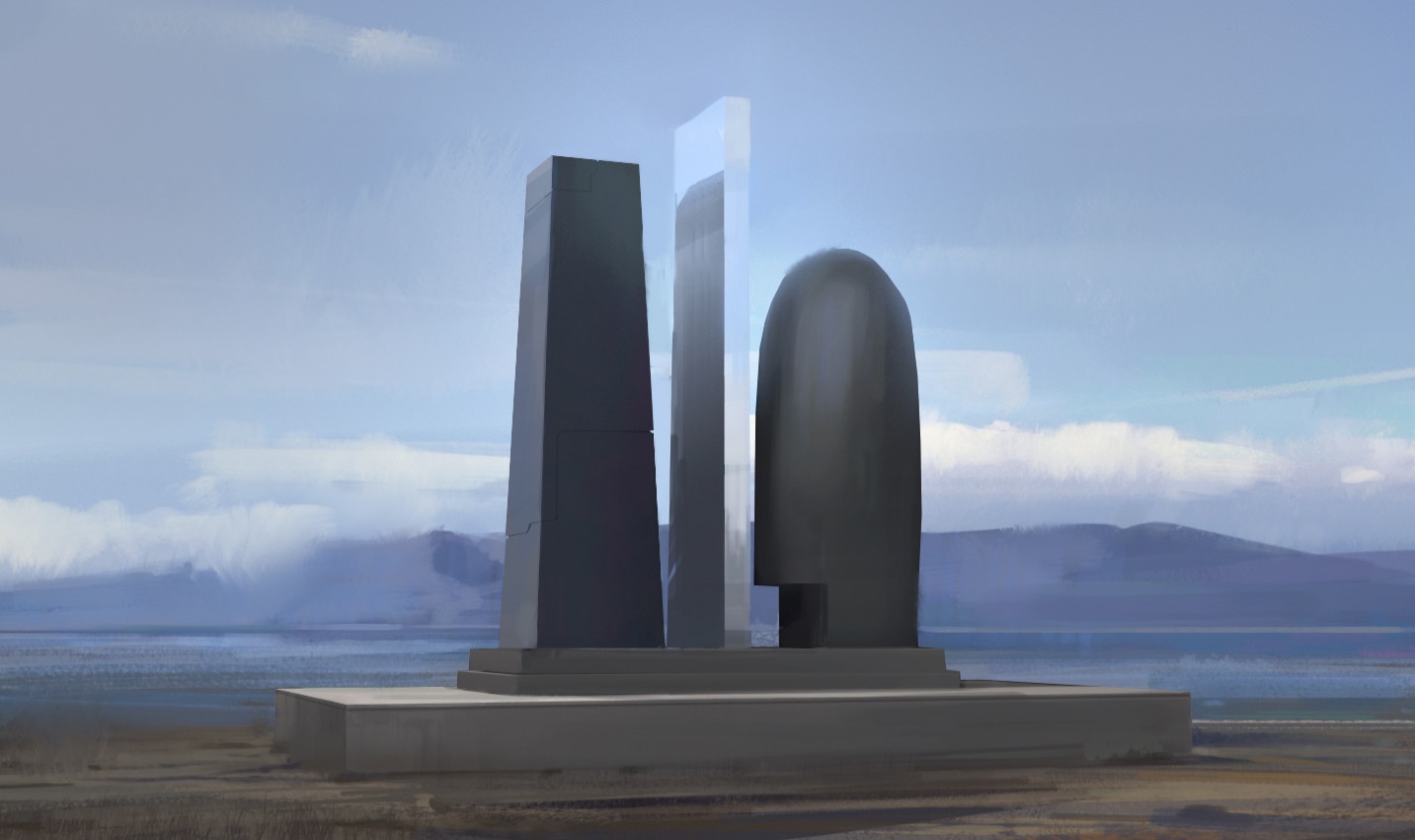 Concept art of the monument
The monument is an a outdoor sculpture by the artist Sigurður Guðmundsson with help and input from EVE Online's own art directors Börkur Eiríksson and Ásgeir Jón Ásgeirsson. "Worlds Within a World" will stand over five meters tall and consist of two main elements facing each other through a highly polished stainless steel surface that reflects and mirrors the elements and the landscape. On the left side of the model stands a dark aluminum structure with a quote from the EVE Universe and on the right a dark granite facial figure representing the game's players.
In 2013, EVE Online was honored by the Museum of Modern Art in the "Applied Design" exhibition of the Museum's Philip Johnson Galleries and formally inducted into the permanent collection in the inaugural group of video games alongside thirteen others such as Tetris, Pac-Man, and The Sims. This monument extends CCP's efforts to create a truly unique universe, in this case through a landmark that bridges the gap between the real world and the virtual.
Read more thoughts on the monument from CCP's CEO, players and the artist at the monument website: http://www.eve.com/monument
More about the artist: http://www.i8.is/?s=8&aID=40
Joining EVE Online: http://www.eveonline.com/
Media Contact: Ned Coker (nedcoker@ccpgames.com)
About CCP
CCP is the world's leading independent developer of massively multiplayer games, and has been praised for its artistry, game design and unique player-driven, infinitely scalable storytelling narratives. CCP is the creator of the critically acclaimed science-fiction game EVE Online (PC/Mac), which is celebrating an unprecedented tenth consecutive year of subscriber growth. In addition to EVE Online, CCP also develops DUST 514 ®, a groundbreaking, free-to-play, massively multiplayer online first-person shooter for the PlayStation®3, and EVE: Valkyrie™, a multiplayer spaceship dogfighting shooter, both set in the EVE Universe. CCP is also developing World of Darkness®, a modern gothic horror massively multiplayer online roleplaying game based on the classic tabletop roleplaying game Vampire: the Masquerade®. Founded and headquartered in Reykjavik, Iceland, in 1997, CCP is privately held, with additional offices in Atlanta, Newcastle, San Francisco, and Shanghai. For more information, visit www.ccpgames.com.
About EVE Online®
Celebrating its tenth anniversary, EVE Online (PC/Mac) is a captivating science-fiction game in which hundreds of thousands of players compete for riches, power, glory and adventure in a single universe. EVE players build and command a wide variety of starships and traverse vast solar systems interconnected by a sophisticated player-driven economy, forging their own destinies in the meaningful context of other players vying to do the same. Learn more and play the free trial at www.eveonline.com.