Issue #1 of CCP Games' Anticipated EVE: True Stories Graphic Novel Available Now for Free Download via Dark Horse Digital
by CCP Loktofeit4:01pm on Friday 21st February 2014
CCP Games, the world's leading independent developer of massively multiplayer games and creators of EVE Online, along with Dark Horse, are pleased to announce that the first issue of EVE: True Stories, "Thieves Among Us," is now available as a free download from Dark Horse Digital or via the Dark Horse Android and iOS apps.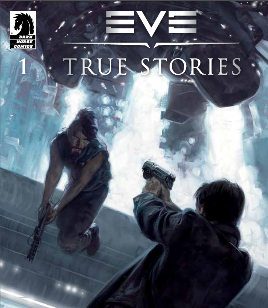 Issue #1 of the EVE: True Stories graphic novel dramatizes the opening throes of one of the greatest gaming stories of the last decade – the fall of the player alliance known as the Band of Brothers. Filled with action and intrigue, "Thieves Among Us" is inspired by actual player-driven events. Issue #1 is written by legendary writer Daniel Way (Wolverine: Origins, Deadpool) and features the artwork of Tomm Coker (Daredevil Noir, Near Death) with cover art by David Palumbo (ALIENS, Heavy Metal).
Future instalments of EVE: True Stories will arrive digitally on 5th March, 19th March and 2nd April 2014, via Dark Horse Digital.
The hardback prestige collected edition of EVE: True Stories, containing all four comics, will go on sale in book and comic book stores, 4th June, 2014.
US MEDIA CONTACT:
Dan Walsh
Lewis PR
EU MEDIA CONTACTS:
Kirsty Endfield (UK)
Indigo Pearl
Claudia Kuehl (EU)
Delasocial
About CCP
CCP is the world's leading independent developer of massively multiplayer games, and has been praised for its artistry, game design and unique player-driven, infinitely scalable storytelling narratives. CCP is the creator of the critically acclaimed science-fiction game EVE Online (PC/Mac), which is celebrating an unprecedented tenth consecutive year of subscriber growth. In addition to EVE Online, CCP also develops DUST 514 ®, a groundbreaking, free-to-play, massively multiplayer online first-person shooter for the PlayStation®3, and EVE: Valkyrie™, a multiplayer spaceship dogfighting shooter, both set in the EVE Universe. CCP is also developing World of Darkness®, a modern gothic horror massively multiplayer online roleplaying game based on the classic tabletop roleplaying game Vampire: the Masquerade®. Founded and headquartered in Reykjavik, Iceland, in 1997, CCP is privately held, with additional offices in Atlanta, Newcastle, San Francisco, and Shanghai. For more information, visit www.ccpgames.com.
About EVE Online®
Celebrating its tenth anniversary, EVE Online (PC/Mac) is a captivating science-fiction game in which hundreds of thousands of players compete for riches, power, glory and adventure in a single universe. EVE players build and command a wide variety of starships and traverse vast solar systems interconnected by a sophisticated player-driven economy, forging their own destinies in the meaningful context of other players vying to do the same. Learn more and play the free trial at www.eveonline.com.